If you really want to grow your blog's audience and traffic, then this course is the ideal next step.
I've been working through Pinfinite Growth for only 3 days and already I've seen a 41% increase in Pinterest followers, 55% average increase in blog traffic, and Pinterest is already my #1 referrer! I can't wait to see what the rest of the course brings!
- Krista Rae
Do you want to create more engagement on your blog, so that you can turn it into a full-time business?

Do you want to attract your ideal readers and clients, but have no idea how to do it?

Have you ever felt that there are already too many bloggers, so why should you make it?

Oh, girl, you are so in the right spot.



What if I told you that you could...
Dramatically grow your traffic in less than an hour per week?
Attract the right visitors and subscribers who will become raving fans and clients?
Authentically stand out and become the go-to hub and resource in your niche?
Get this, blog babe -- you can achieve all of this growth by simply using Pinterest more strategically.
Yup. F'real.
In my step-by-step eCourse, Pinfinite Growth, I'm pulling back the blogging curtain to show you exactly how I've used Pinterest to grow my blog. In fact, I'm revealing how Pinterest doubled my pageviews and brought me over 1,000 subscribers in less than three months. I'm also be sharing how I grow my Pinterest account by 2,000-3,000 followers per month, which creates infinite growth and continues to drive even more traffic to my blog and business.
The best part? These are the right kind of visitors -- ones who are engaged and stick around. We're not just trying to "grow your blog" here. We're growing your traffic and audience with intention, yo.
This eCourse shares my very best Pinterest strategies, so that you can stop throwing every idea at the wall and instead, grow your blog effectively -- in less time than you're probably already spending. #winning.

Traffic to my website more than doubled in three months using my Pinterest techniques.

Imagine if you could wake up each day to more and more people visiting your blog, subscribing to your email list, and sharing your work with the world.

Imagine if you had a hungry following, waiting to devour your products and services.

Imagine if growing your blog didn't have to eat up all of your time.

Imagine, #girlboss, if Pinterest were your secret weapon -- if you could attract the very best readers in less time than you're already spending.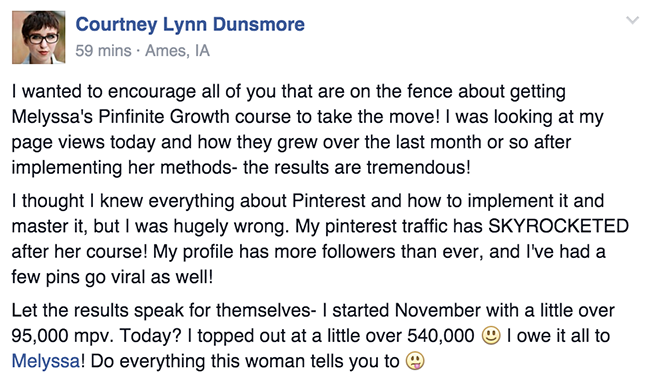 (Said in a public Facebook group)

So I'm on the final module and starting to look at my stats. I've looked at them before, but when I opened them this morning while watching the module, I almost started to cry. LOOK AT THAT SPIKE! I've had two posts go viral (well, viral for me) that have never given me traction before. Melyssa Griffin if I ever meet you in person, I'm giving you a gigantic hug! THANK YOU!!!!!!!!!
- Kyla (in our private Facebook group)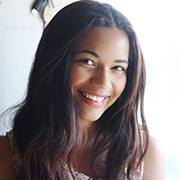 Since starting Pinfinite Growth (just two weeks ago!) I've had two potential clients who found me through Pinterest. I have consult calls lined up with them both this week! Also, my website traffic is the highest it's been in 4 months! Feeling like a happy pinner today.
- Nesha Woolery
Want bonuses? You got it.

Registering for Pinfinite Growth will not only give you access to all eight modules, with video tutorials and written PDFs, but you'll also get tons of bonus content. Including...


1. FREE Photoshop templates for your Pinterest graphics.

Never used Photoshop? Having trouble creating gorgeous Pinterest images? No problem! You'll receive 3 free Photoshop templates (with a video tutorial, showing you exactly how to edit them) so that you can create beautiful, pin-able images, even if you've never used Photoshop before.
2. Membership into an exclusive Facebook group.
In this special group, you'll have intimate access to Melyssa and the other members. This group focuses on growing a blog and online business and serves as an incredible resource to build friendships, get feedback, and discuss your online world with people who get it. Seriously, the members of this group are ACTIVE and truly awesome.
3. Free premium membership to my favorite Pinterest scheduling program ($30 value).
4. Downloadable 30-page workbook.
This workbook will help you craft your new Pinterest strategies with intention. You can either print it out and write down your answers OR simply type your answers into the interactive, digital worksheets. Yay for simplicity!
5. Lifetime access and free updates to the course.
This course is so mind blowing. Just doing the exercises has significantly helped my blog traffic! I am working on my blog now, and I just received a crazy alert that I have never seen before that was saying "your stats are booming! It appears your blog is getting more traffic than usual!" LEGIT. Thank you, Melyssa Griffin!!!
- Sara
Your Instructor
Melyssa Griffin helps bloggers and online entrepreneurs grow their tribes and earn a full-time income online. As an e-course instructor, she has taught more than 3,000 students. As a business woman, she has turned her blog into a nearly million dollar business. Melyssa also leads an active Facebook group called the Blog + Biz BFFs, which is home to over 25,000 budding business rockstars.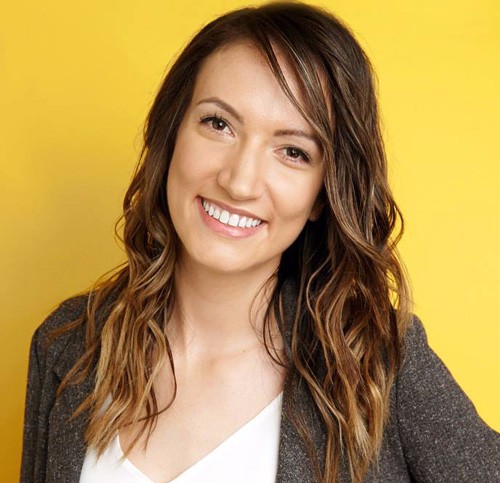 Who is Pinfinite Growth for?

This course is for you if…
You want to learn how to attract the right people to your blog and get them to stick around!

You're mystified by how long it seems to take to grow a following for your blog or biz and you want to learn strategies that are more effective and less time-consuming.

You use your blog as a marketing tool for your biz, and you know that more, targeted traffic means more clients and customers.

You want to up your game on Pinterest, whether you're a newbie or a seasoned pro.
This course isn't for you if…
You blog for fun, but don't have an interest in growing a community, following, or income.

You aren't willing to invest your time or money into your blog. This course teaches a lot of time-saving strategies, but will still require some dedicated effort on your part -- especially in the beginning -- to see the most "pinfinite" growth.

You don't have a blog.

I knew that this course would rock because Melyssa is killing it in the blogging and social media scene. Let me tell you, this course is worth every. single. penny. It's fun, engaging and full to the brim with secret Pinterest strategies.
Melyssa doesn't just share her tips for Pinterest, but also how to create a blog and brand that stands out. Pinfinite Growth has not only given me the tools I need to grow my business using Pinterest, but has also re-ignited inspiration and excitement for my blog and brand.
- Billie, Desire to Done
This course is not open for enrollment.